How to understand and read visual media?
The course is aimed at both encompassing the theoretical aspects of the visual turn in the 20th century and demonstrating practical instruments for analyzing static and dynamic images. It studies the key issues of the visual culture sphere and orients students in the topic of the social role images and visuality play. This course introduces the main topics of visual culture, starting from the history of modern forms of visuality or the history of visual technologies, finishing at the conceptions of performances, collections of images, and relations between images and memory. We will have a look at the ways of image circulation in media and networks and analyze border phenomena that are formed at the margins of different social spheres: art, advertisement, popular culture, comics, news, science, mass entertainment, videogames, architecture, design. In order to read visual images and the visuality we live in better, we are going to involve Lviv visual culture into our discussions and tasks, and base on collections of the Urban media archive of the Center for Urban History.
Lecturer: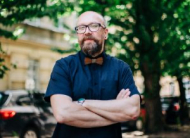 Dr. Bohdan Shymylovych
historian and art historian, researcher at the Center for Urban History. He has received a PhD from the European University Institute in Florence (2020). The main focus of his work is media history and history of television in Centre-East Europe and the USSR, and also urban creativity, media art, and visual studies.